The following information is for Mail domain administrators. If you are looking for user-level help, see the Mail Users Guide.
Administration via the Web
Connect to https://mail.electricembers.net/admin and log in as postmaster@your-domain.org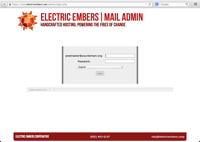 Creating mailboxes
Log in to the Admin page
Choose [Add Mailbox]
Enter the username, password, real name, and set their quota. Then click the [Add Mailbox] button at the bottom. The page comes back with a success message, ready to add another.
It will take up to 5 minutes for the account to come to life and begin receiving mail. Of course, the user's email program will also have to be set up with the proper settings.
Deleting mailboxes
Log in to the Admin page
Choose [Overview] and then click your domain name.
Find the account you want to remove and click [del] all the way on the right. You will be asked for confirmation.
Alias addresses
Aliases are not full mailboxes, but simply addresses that deliver incoming email messages to other email addresses. You can use aliases to receive email for more variations of an email address (like firstname@ and firstname.lastname@) or to add "role addresses" like info@ or jobs@.
Aliases can also be used to "forward" mail to an email account already hosted elsewhere.
Log in to the Admin page
Click [Add Alias]
Enter the alias (just the "localpart" or the part to the left of @) and the address(es) it should go to.
Click the [Add Alias] button.
Forwarding
As "postmaster" you can make email addresses "forward" or deliver to another email address:
Log in to the Admin page
Under ::Mailboxes find the account you want and click [Alias] (to the right)
Add the desired destination address(es) to the To: field and uncheck the "Deliver to the local mailbox" checkbox (unless you also want to keep a second copy of every incoming message in this email box, in addition to the forwarding.)
Click the [Save Changes] button to finish.
If there is no need for a real mailbox, you should use Add Alias rather than create a real mailbox.
Note: If you want to forward incoming messages to Google gmail, and you want to be able to use Google gmail to also send mail From: your EE-hosted address, then you can not use an alias – it must be a real mailbox, with a password. This is because gmail will still use the EE mailbox credentials to submit outgoing SMTP email messages. See GMail setup.
Changing Passwords
If a password to a mailbox is lost/forgotten, you can set a new one for that user.
Log in to the Admin page
Choose [Overview] and then click the domain name.
Find the user account you want and click [edit].
Enter a new strong/long password and click on the [Save changes] button.
Password changes can also be made by the users themselves (unless the current password is lost), through Webmail (under Settings –> Password).
Quotas
You can adjust each mailbox's quota (disk storage limit) from the default 5GB to as low or high as you wish.
DNS hosted elsewhere
If we host your domain's DNS, we will manage the necessary records for you. But if your DNS is hosted elsewhere, you will need to make changes to enable your EE-hosted email service as described here.
1. You will need to change your domain's MX record (but only when mailboxes/aliases are all configured here and you're ready to reroute mail to us!):
Type: MX  |  Name: @  |  Precedence: 10  |  Value: smtp.electricembers.net
2. To access your Webmail most easily, you should add this A record:
Type: A  |  Name: mail  |  Value: 208.90.215.73
3. To avoid having your messages to other people spam-filtered, you should enable DKIM signing with this TXT record:
Type: TXT  |  Name: npomail._domainkey  |  Value: k=rsa; p=MIGfMA0GCSqGSIb3DQEBAQUAA4GNADCBiQKBgQDVP6R/4V0WbPixsP7UyDKUHNNzgwHP8IkTgpSte+vPvWDuTSZLCMN0nGsxt+vXBEn7U+Mx4XXxZN1M5DCE8AerReWctGhPjumjCNeu3nj75IVKEGJFviCpob1LMZTmkZ4/AumWIy/+vu8FEilGJjxnLOEHYNJ+U2z7H+XkDHoXdwIDAQAB
and enable SPF by adding a TXT record or editing your existing text record, with something like the following:
Type: TXT  |  Value: v=spf1 a a:mail.electricembers.net ~all
4. Finally, to enable email account auto-configuration for MS Outlook and Mozilla Thunderbird users, you may want to add these two records, being sure to include all the special "." and "_" characters in the first one:
Type: SRV  |  Name: _autodiscover._tcp  |  Priority: 0  |  Weight:  0  |  Port: 443  |  Value: autodiscover.electricembers.net
Type: CNAME  |  Name: autoconfig  |  Value: autoconfig.electricembers.net
SPAM and VIRUS messages
Our Shield system tags likely spam messages with the subject [SPAM], and quarantines viral attachments and tags infected messages with [VIRUS]. These messages are then automatically filtered into folders named Spam and Virus on the server, where users can view them via Webmail or an IMAP client (not POP). Messages in these folders, as in the Trash, will be automatically purged after 14 days.
---
Frequently Asked Questions:
I lost my password. How can I retrieve it?